With Add plus you can send the very uncomfortable, annoying and unbearable fabric labels to the attic, and replace them with a QR Code printed inside your garments.
Consumers will be able to check the information of your garments at any time from their smartphone, immediately understand the symbols, have useful advice and an infinite number of informative contents, always updated: (video, audio, text, images) and you can sell with a click or get feedback by breaking down any distance.
The greenest way to inform and create business opportunities.
Select the Media Kits for your WEB SHOWCASES, customize them and print the QR Codes on your clothing.

AbbigliamentoModa srl
LABEL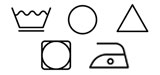 70% Coton
30% Polyester
Made in Italy
CATALOG

BUY NOW

WHERE WE ARE